Some companies that Trust our capabilities
What our customers have to say about us
The mech that did the work of installing told me that the install was a "piece of cake".
I wanted to mention that we had our first serious accidental test of the system and it worked really well. A meeting broke up in the room with the Area Monitor. They all headed to the door and just as they started opening the door the alarm/light went off. Everyone Froze and the forklift passed without incident. It did exactly what we wanted it to do and it prevented a potentially serious injury/accident.
The ARIN team listened to us and is extremely responsive to all our needs through the pilot process. I was very pleased to see a new signage designed within a couple of weeks based on our needs and comments by our team.
The ARIN team have been so helpful and responsive throughout the entire process. Each time we and the client had any questions they have responded within minutes of our inquiry. Today the client had an urgent need for response to 3 questions to clear customs and we were able to get them all that they needed within an hour. We have truly enjoyed working with them. They are value add from start to end.
We evaluated multiple products and companies and selected ARINAlert. The ARIN team is available when we need them and is able to either configure te product for our specific needs or able to design new functionality based on our input.
Our ARINAlert™ Forklift Collision Avoidance System improves worker awareness and reduces forklift accidents involving forklifts, pedestrians and equipment.
Without a forklift collision avoidance system, you risk costly and preventable accidents involving forklifts, workers and equipment as well as serious injuries to your employees.
Has your company experienced a forklift accident or near-miss? Where workers injured or equipment damaged?
---
According to OSHA,
The fatal injury rate for the warehousing industry is higher than the national average for all industries.
One of the highest potential hazards for warehouse workers is the unsafe use of forklifts.
The most frequent OSHA citations involve forklifts.
---
Considering the average cost ($188,000) of an injury causing forklift accident, our ARINAlert Collision Avoidance System is an affordable investment.  By providing forklift operators with alerts to the presence of pedestrians, other forklifts and valuable equipment in the vicinity, worker awareness is improved and risk of a forklift accident is decreased.
Need a custom forklift collision avoidance system? Our ARINAlert system is designed, developed and assembled here in the U.S.A.
Forklifts gets their own audible and visual alert unit.
Warehouse employees (pedestrians) and valuable equipment get their own ARINAlert tag (wearable) that communicates with all ARINAlert equipped forklifts.
When a pedestrian, piece of equipment or other forklift comes in range, the forklift operator immediately receives audible and visual warnings.
Learn more about the ARINAlert components.
The visual warning is provided by a traffic light device:
Red – stop immediately 
Yellow – proceed with caution
Green – all clear
With everyone communicating, collisions are avoided and accident risks are reduced.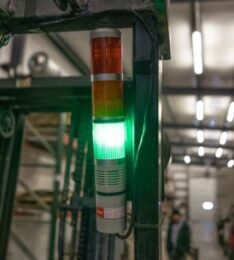 Additional Benefits of the ARINAlert System
PLUG AND PLAY INSTALL
ARINAlert is designed in a manner that makes it very easy to install. Typical installation time is 15 minutes. All you need to do is attach the monitoring unit to the forklift and connect the power. ARINAlert will take up to 95VDC input from your truck. Low 1 amp current draw means that a dedicated power lead usually is not needed.
FULLY CONFIGURABLE
ARINAlert is a fully configurable system to enable it to work with any forklift and any environment. Alerting and Warning distances can easily be changed to suit your facility. Maximum distance is 40 m with 0.1 m accuracy.
MULTIPLE TYPES OF ALERTS
ARINAlert comes with two types of alerting systems for the vehicle operator. A Light Bar (similar to a standard traffic light) and an audio buzzer. The audio buzzer can be automatically turned on or off based on where the forklift is operating.
ENABLES DATA DRIVEN DECISIONS
ARINAlert can collect data. This data can then be used to improve processes within your facility. The type of data that can be collected includes forklift operator, forklift telemetry, forklift utilization and much more.
How to get your ARINAlert System?
1
Contact us to arrange a no-cost meeting to discuss your goals and needs.
2
We will provide you with a proposal to address your goals and solve your needs.
3
Once a solution is finalized, we will build and send you all the necessary pieces for your new ARINAlert system.
4
Install your new ARINAlert system and start benefiting from a safer environment with less risk of a forklift accident.
5
We will be there to provide technical support along the way, now and in the future.